Wedding Planner – Wedding organizer
Bordeaux, Bassin d'Arcachon and Dordogne
Destination Weddings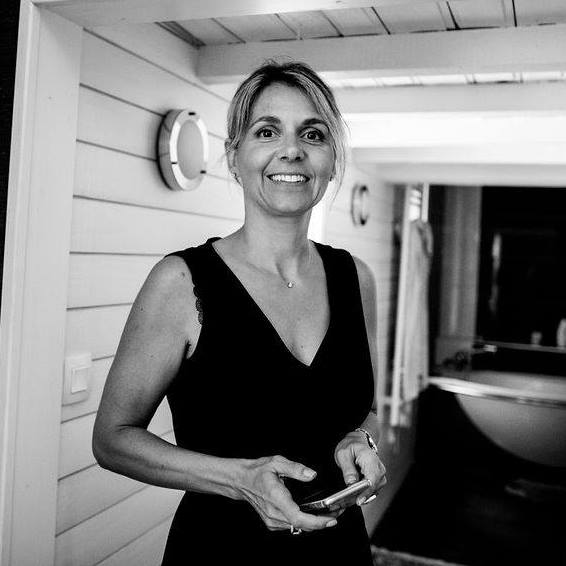 Whose behind this name ?
Alison Laureen are the first and middle names of her daughter. Sabine, herself, is a passionate of beautiful encounters and weddings . She takes joy in listening to the desires of each and every couple, designing their customized event and giving birth to their dream project
An organizer at heart, Sabine started in tourism giving advice and arranging customised travel plans, These adventures have inspired her further and enable her to think big and beautiful when it comes to others dream locations and activities.
Being a perfectionist and wanting to offer the best possible advice Sabine decided to resume studies , taking a 3 year course in personal development and additional training in wedding planning giving her a real insight into understanding and communicating with people – within this work she realises her passion which is to create – unique moments of happiness – that will never be forgotten ! Each couple are special not only to each other but to Alison
What say those who know her well ?
"Life in the USA for more than 6 years brought her an openness to a different world of lifestyles . Alison is resolutely dynamic and optimistic she is passionate about decoration, with an inquisitive mind , whatever the challenges , she will rise to them and take them further than you ever imagined . She suggests you sit back and relax enjoy yourself and be in peace, because what is certain, is that she will capture your dream day ! ".
Veronique B., Project Coordinator of life 
"Sabine Barrier has impeccable taste and an incredible eye for detail. She is organized, creative, patient and enthusiastic about her work. Sabine is a true professional who will use all her experience and skill to make your day as special as you imagined."
Liz B., travels lover in NY
I do speak English, don't hesitate to contact me !
Témoignages 
"Bonjour Sabine ! Encore merci pour ce mariage extraordinaire , parfait et comme on l'avait imaginé ! Pour ton professionnalisme et ta disponibilité . Merci beaucoup". V&T
"Merci chère Sabine. C'était un plaisir de vous voir, et je suis ravi de votre implication pour le mariage de Victoria. Je vous embrasse". Papa de la mariée.
" Qu'attendez-vous de votre organisatrice de mariage ?
Moi beaucoup…
Rigueur, écoute, conseils, compétences, ouverture d'esprit, astuces, ORIGINALITE.
Lui beaucoup mais différemment…
Une certaine générosité du coeur et de l'esprit.
C'est ainsi, toutes les qualités que nous avons trouvé auprès d'Alisonlaureenwedding.
Nous avons vécu une année en totale cohérence, une véritable équipe !!!
Ce fut une aventure pleine de complicité, nous la souhaitons égale aux futurs mariés qui auront le soin
de faire appel au professionnalisme de cette wedding planner.
"Sabine" Et si on se donnait rendez-vous dans 10 ans…
 Dorothée et Michel "
"Quelle belle aventure ! Je ne pensais pas que le role de témoin pouvait impliquer autant d'engagements… LOL !  Je suis tatillon mais tu l'es tout autant et je tenais à te remercier pour ton organisation, ta patiente, tes idées et suggestions mais aussi ta passion pour ce métier. Merci merci Sabine! c'était une aventure fabuleuse et le résultat était extra ! A très bientôt…". Olivier.